We can help you with as much or as little of the sale of your home or property as you need.  Most people are happy showing their home themselves, handling open houses, and creating ads and marketing flyers. But, they want help with the following: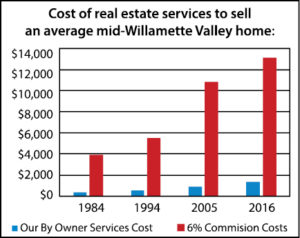 Pricing their property
What's worth it & not worth it in preparing the home for sale
What is a lender likely to require
What a home inspector might say about the property
Furniture arrangements
Decorating pointers
Ideas and samples of ads & flyers
Knowing what to expect during this process
How much earnest money to ask for
Common contingencies
Required disclosures & inspections
What to do when a Realtor calls
Negotiating & drafting sale agreements
Financing & the steps through escrow & closing
Many others
We are licensed real estate professionals here to lend a knowledgeable hand to help you through this generally fun & financially beneficial process. Besides, it is very rewarding meeting and working through this process with the next owner of your home.
---
BY OWNER SERVICE FEES
Hourly – paid monthly- $160/hr – To help you through this whole process averages just under 9 1/2 hours, or $1,520. Your cost could be more, or less.
Flat Fee – paid at closing- $2,295 with you creating your own marketing flyers and ads. $2,595 with us creating your flyers & ads. (Advertising costs paid by owner.)
As you can see, any of the above options is a big savings over the typical 6% commission